Wrist worn fitness trackers are some of the more popular trending pieces of fitness equipment in today's world. Enter any commercial gym and you're sure to find a handful of avid exercises monitoring their heart rate, energy expenditure and number of steps in a day. Some come with more features such as tracking different stages of sleep. However, do these wrist worn fitness trackers monitor heart rate and energy expenditure accurately? And if so, is one better than the other? Shcherbina et al. [1] recently investigated a multitude of wrist worn fitness trackers and compared them to the gold standard of heart rate and energy expenditure measurement devices.
What Devices Were Tested?
The criteria for inclusion for this study included: wrist-worn watch or band; continuous measurement of HR; stated battery life >24 hours; commercially available direct to the consumer with one device per manufacturer. 7 devices were used for this study:
Apple Watch;
Basis Peak;
FitBit Surge;
Microsoft Band;
MIO Alpha 2;
PulseOn;
Samsung Gear S2
Who Were The Subjects and What Was Tested?
60 participants (29 men and 31 women) from a diverse background with varying age, height, weight, BMI, wrist circumference, and fitness level. From this cohort, skin tone at the wrist was rated as well as VO2max during running or cycling. To test the accuracy of the wrist worn fitness trackers, subjects wore up to 4 devices simultaneously and were also hooked up to ECG monitoring (tests electrical activity of the heart; the device that flat lines when people die in all the movies you watch) and clinical grade indirect calorimetry (expired gas analysis; you'd be wearing a mask for this one).
Once all fitted with the equipment, the protocol started with being seated for 5mins. This transitioned to treadmill walking (3mph at 0.5% incline) for 10mins followed by faster walking (4mph at 0.5% incline) until 15mins. This transitioned to slow running (average speed 5.7mph at 0.5% incline) until 20mins and then faster running (average speed 6.9mph at 0.5% incline) until 25mins. After this, there was a 1min of sitting recovery, and 2min of rest and transition to a stationary bike where 5min of low intensity cycling (average work rate 88W) until 33min and followed by more intense cycling (average work rate 160W) until 38min, then 1min of sitting recovery which concluded the protocol. To get a picture of how this worked, see the image below.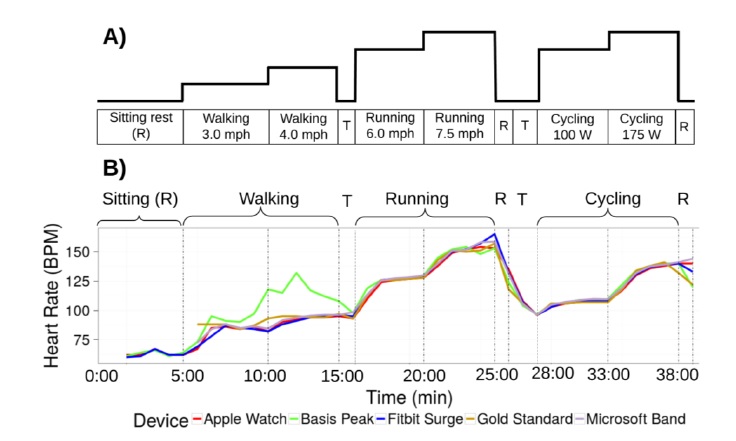 What Did The Authors Find?
Heart Rate
The lowest error in measurement of heart rate was observed while cycling (0.9%-2.7%) while the highest was observed for walking (3.9%-7.1%). Here are the rankings for each task:
Cycling BEST
Heart rate median error below 5% (no particular order as this is below the error threshold)
Apple Watch;
Basis Peak;
FitBit Surge;
Microsoft Band;
MIO Alpha 2;
PulseOn.
Cycling WORST
Samsung Gear S2 achieved a median error rate of 5.1%.
Walking BEST (in ranking order)
Median error rate below 5%
Apple Watch 2.5%
PulseOn 4.9%
Microsoft Band 5.6%
Remaining devices achieved a median error between 6.5% and 8.8%.
Across devices and modes of exercise, the Apple Watch achieved the lowest error in HR (2%) while Samsung Gear S2 had the highest error (6.8%).
Ranked from best to worst for measuring heart rate.
Apple Watch
Microsoft Band
PulseOn
FitBit Surge
Basis Peak
MIO Alpha 2
Samsung Gear S2
Energy Expenditure
Error in energy expenditure was a lot higher than heart rate for all devices. Median error rates ranged from 27.4% for the FitBit Surge to 92.6% for the PulseOn. During modes of exercise, the lowest rates of error across devices were achieved during walking (31.8%), and running (31%). While the highest error rates during sitting (52.4%). They can be ranked as such (best to worst):
Apple Watch
FitBit Surge
Microsoft Band
PulseOn
Basis Peak
Bare in mind that none of these are accurate enough to take into consideration for measuring energy expenditure.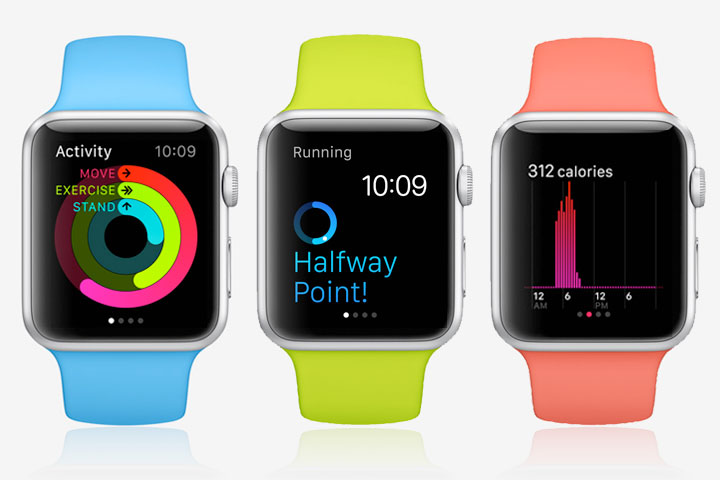 The Best & Worst: Is a Fitness Tracker Worth Buying?
The main findings from this paper are: 1) most wrist worn fitness trackers report HR with acceptable error under laboratory conditions walking, running and cycling; 2) no wrist worn fitness tracker report energy expenditure within an acceptable error range;
3) the Apple Watch had the most favourable error profile while the Samsung Gear S2 showed the greatest inaccuracies.
Other variables also contribute to increasing the inaccuracy of heart rate measurement of your wrist worn fitness tracker such as darker skin tone, larger wrist circumference, whether you are male or female and higher BMI. Furthermore, the more intense your exercise (faster walking or running), the more inaccurate your heart rate readings will be. So to minimise inaccuracies in heart rate readings of your wrist worn fitness tracker, be a skinny white female with skinny wrists and only perform low intensity walking or running.
Joking aside, if you are really serious about tracking your heart rate, I would recommend buying a Polar H7 unit that straps to your chest and will Bluetooth to your phone which is half the price of a wrist worn fitness tracker. If you want to track energy expenditure, don't buy one of these. Overall, a wrist worn device seems to be a better watch than a fitness tracker. So bare that in mind if you are thinking about buying a device to track fitness measures. If you really want a wrist worn fitness tracker, the Apple Watch is your best bet.