What's on your plate?
Cairns Triathlete and DIME Performance Athlete Megan Hendry opens up her kitchen to share with us what she eats in a day and show us what's on her plate (spoiler alert: it's YUM).
No, Meg does not eat all this in one sitting. She has generously shared a variety of options of what she would consume whether she is doing a short training session or long session.
Meg's plate focuses on fresh food. 90% of the food she eats is fresh and unprocessed.  Meg shares that she likes "to cook at home and prepare ahead of time if I need to take food with me post training.  I eat a variety of foods, I don't cut anything out completely, but I do limit things and class others as treats.  I try to incorporate a good balance of protein, good fats and carbohydrates into all meals."
Breakfast
Pre Training (session under 2 hours)
Banana
Homemade bliss ball
Electrolyte drink
Pre Training (session greater than 2 hours)
Muesli with yoghurt, banana and raspberries
Multi grain crumpets/Muffin with honey, jam, peanut butter and a banana
Homemade banana bread grilled with yoghurt and berries
During Training (sessions under 2 hours)
Electrolyte drink
Water
Protein bar (if needed)
During Training (sessions greater than 2 hours)
Endurance drink (Produrance, carb based)
Water
Megabake protein energy bars
Gels
Homemade Date and nut bars or energy balls
Post Training
Breakfast Burrito – bacon, eggs, spinach, sweet potato, tomato, ricotta, mountain bread
Salmon, eggs, spinach, tomato, capsicum, mushrooms
Bircher Museli/overnight oats – banana, milk, protein powder, chia, berry, nuts, yoghurt
Protein Pancakes (egg, banana, protein powder, oats)
Veggie Fritters (sweet potato, corn, zucchini) topped with poached egg, spinach, tomato
Protein Pancakes
Sweet Potato Fritta and Eggs
Lunch
Salad and wrap (tuna, egg, chicken, fish)
Stir Fry
Quinoa Salad
Rice Paper Rolls
Pita Pizza
Sweet potato crusted quiche and salad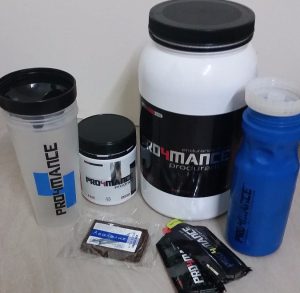 Snacks
Cruskit, rice cakes or pappadums topped with (egg, tuna, spinach, salad, avocado, peanut butter, cottage cheese, dip..etc)
Recovery Shake (protein powder, milk, milo, banana, nut butter, berries…etc)
Boiled Egg
Quiche bites
Nuts and sultanas
Coffee with skim milk
Fruit
Carrot sticks and hummus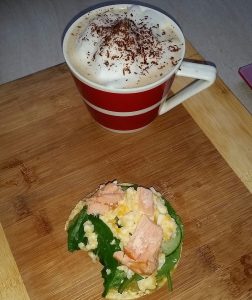 Dinner
Kangaroo and Salad
Prawns, steak and veg
Grilled chicken, sweet potato chips and salad
Zucchini Pasta and sauce
Homemade curry and quinoa or brown rice
Couscous and grilled fish
Usually anything with a solid piece of protein, steamed or roasted vegetable or salad and some carbs (sweet potato, corn, quinoa, couscous, brown rice)
Dessert 
Occasional treat of either:
Fruit with yoghurt and granola
Homemade banana bread
Frozen banana rolled in chocolate and nuts
Bliss ball
Frozen yoghurt
Thanks for the insight Meg. Now it's time for a feed.
For more amazing food photos and training photos head to Meg's instagram: @mhendry89